B2B Inside Insights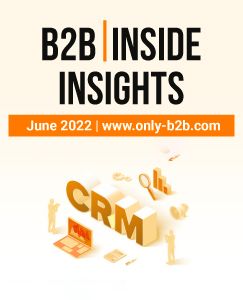 Folk developed a new CRM system that is both versatile and powerful.
Folk is a next-generation CRM created by eFounders, a European startup company. "CRM is the most popular SaaS [software-as-a-service] category. Salesforce has the greatest market capitalization in the SaaS business" according to co-founder and COO Simo Lemhandez. "However, it's also a category that contains products some of which are regarded obsolete," he continued.
For example, Lemhandez believes it is too difficult to tailor a big CRM software to your specific requirements. "Even though we're all acclimated to the self-serve paradigm, we've all heard of Salesforce's integration teams," he added.
Folk, like many current SaaS applications, takes inspiration from well-known solutions that are both versatile and powerful. Notion, Airtable, Figma, and Shopify are just a few examples.
Folk has been iterating on its beta product for the past 18 months. There are 10,000 people waiting to test it out on the company's queue. You don't need an integration team to get started. You'll be prompted to create a workspace and invite your peers when you initially join up.
Users may import contacts, emails, and calendars into the application thanks to a Google Workspace interface. Folk immediately begins merging duplicates, indexing all fields, and enhancing contact data in your contact database.
Folk users may search their contact database with a single keyboard shortcut. You can look up a person's name, a company's name, and so on. You can start exploiting your network once you've laid this foundation.
Folk allows you to arrange your connections by creating groups. Each group might represent a project or a group of individuals. For example, you might build a group for public relations, another for existing investors, still another for new clients, and so on.
Folk allows you to send bulk messages using variables like first and last names. Members of a team may also make remarks to a contact to ensure that everyone is on the same page. There's also a function that serves as a reminder.
Folk competes against traditional CRM products such as Salesforce and HubSpot, as well as database and spreadsheet applications like as Notion, Airtable, Coda, and Excel.
Building value-added lead magnets with a high conversion rate that delivers value
Leads make or break sales, but drawing prospects and transforming them into purchasers is an art that few have mastered. According to Hubspot, getting traffic and leads is the largest difficulty for 61% of marketers. Why?
A website's visibility is now hampered by three issues. The digital competition, for starters, is completely tailored for Google's search engine. Second, new privacy rules in Europe and the United States prohibit data acquisition, restricting a variety of marketing options. Finally, people are becoming increasingly concerned about the benefit-cost analysis of giving firms their contact information.
However, just because you're having challenges doesn't imply you've given up hope. Those that properly match lead generation with the interests of their potential buyers, on the other hand, will gain a considerable competitive edge. The objective is to use lead magnets as a way to get a foot in the door for ongoing involvement.
Let's take a look at what lead magnets are and how you can use them to create a solid customer connection from the ground up.
The enticing charm of lead magnets
The motions of the +/- poles in magnetic fields produce energy in physics. It's the same with websites: by combining multiple magnets that trigger various activities, you may build a strong atmosphere for piqueing a user's attention.
A lead magnet is on-demand material that encourages visitors to give you their contact information so you may follow up with them later. In a survey of 1,000 bloggers, we discovered that those who used lead magnets were 57 percent more likely to report positive content marketing outcomes.
Currently, 96% of visitors to your website aren't ready to make a purchase. Instead, they're either learning about your brand (awareness stage) or considering your items as one of several choices (consideration stage). During these early stages, you want potential customers to provide their contact information so that you may follow up with tailored emails in the future. Unfortunately, only a small percentage of consumers willingly pass out their information in this manner. This is where attractive magnets come into play.
Content Marketing Will Dominate The Marketing Landscape In 2022 For These 6 Reasons
Old methods of doing things are,behind and industry conventions are reinvented when new technology arises. Content marketing has become one of the most popular marketing strategies.
This digital transformation approach is effective for both B2C and B2B businesses and will continue to be so in the future. Nonetheless, there are other potential advantages, such as increased brand exposure and client interaction. In this article, we'll look at why content marketing will rule the marketing world in 2022.
What Is Content Marketing and How Does It Work?
Content marketing is a marketing strategy that employs the usage of content to convey a brand message. Blog posts, ebooks, white papers, case studies, films, and other types of tangible assets that may be utilised to convey a story about a brand, product, or service are examples of content.
Material marketing seeks to establish a relationship with a target audience by offering useful, engaging, or valuable content.
Here are the top reasons why content marketing should win in 2022 as the new year begins
1. More money spent on content marketing
2. Prioritization of high-quality content
2. Prioritization of high-quality content
4. The emergence of chatbots
5. The Spread of Storytelling
6. Recycling and Rewriting your existing content
Inbound marketing is the way of the future, and content will be the key to success. You may anticipate your company's success to increase in tandem with your blog's success if you turn it into a flourishing community that provides value and engages readers.
GT versus RR in the IPL 2022 Final: A List Of All Prize Winners
Gujarat Titans (GT) won the Indian Premier League (IPL) 2022 on Sunday, May 29, by defeating the inaugural champions Rajasthan Royals (RR) at the Narendra Modi Stadium in Ahmedabad. In this post, we'll examine at the whole list of IPL 2022 honorees.
The KL Rahul-led Lucknow Super Giants (LSG) and Hardik Pandya-led Gujarat Titans (GT) were both included to the cash-rich Indian Premier League in 2022.
RR won the toss and choose to bat first in the summit battle. The choice, however, did not pan out, as they were only able to score 130/9 in 20 overs.
Jos Buttler, the side's star opener, once again led the way with 39 runs.
In pursuit of the victory, Shubman Gill, Hardik Pandya, and David Miller bowled brilliantly to help GT win. Hardik Pandya also became the fourth Indian skipper to win the Indian Premier League, behind MS Dhoni, Gautam Gambhir, and Rohit Sharma.
List Of All Prize Winners
IPL 2022 Emerging Player Of The Season – Umran Malik
Unacademy Let's Crack It Sixes Award Of The Season – Jos Buttler
Punch Super Striker Of The Season – Dinesh Karthik (SR – 183.33)
Dream 11 Game Changer Of The Season – Jos Buttler
PayTM Fairplay Award – Gujarat Titans & Rajasthan Royals
CRED Powerplayer Of The Season – Jos Buttler
SwiggyInstamart Fastest Delivery Of The Season – Lockie Ferguson (157.3 KMPH)
Rupay On The Go 4s Of The Season – Jos Buttler
Aramco Purple Cap Winner Of The Season – Yuzvendra Chahal
Aramco Orange Cap Winner Of The Season – Jos Buttler
Tata IPL Catch Of The Season – Evin Lewis
Upstox Most Valuable Player Of The Season – Jos Buttler
IPL 2022 Runners-Up – Rajasthan Royals
IPL 2022 Winner – Gujarat Titans