14 Oct 2021
Onalytica Launches The World's Largest B2B Influencer Marketplace, MyOnalytica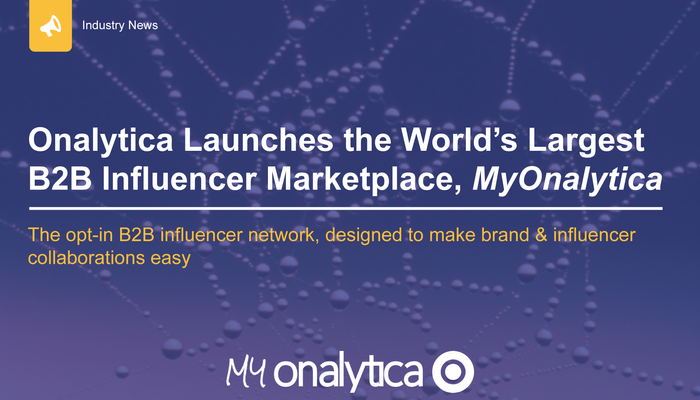 In the last 10 years, influencer marketing as a whole has matured and grown at a rate that no one could predict. 10 years ago "influencer" was still a term no one had really heard of. Fast forward to today and it's an industry set to be worth $15 Billion by 2022, with thousands of platforms and software providers in the market to-date and new ones entering the scene every day.
The growth of influencer marketing as a category is not set to settle any time soon. With COVID-19 the role of influencers has become more important than ever as we all rely upon technology to stay connected.
While the industry has matured, we could see a real gap in the market for a B2B influencer marketplace, whereby B2B brands and B2B influencers could easily connect together to create great content for their audiences. As the market leaders in B2B influencer marketing, we set out on a mission to build a marketplace that would take B2B influencer marketing to the next level.
What problems does MyOnalytica solve?
Having run 5,000+ influencer programs across 40 countries, we are speaking to leading B2B marketers and influencers day in, day out, so we're all too aware of the pain points when it comes to brand and influencer collaborations:
Lack of time and resources – Influencer marketing is often only 10% of a marketer's role
Lack of expertise/best practice – when it comes to reaching out to influencers
No industry rules for engagement – no standard partnership agreements, rate cards, KPIs etc.
Poor initial outreach – Onalytica's research highlights that 58% of influencers think marketers' initial outreach needs improvement
Overwhelming influencer demand – influencers are sometimes receiving upwards of 50 messages per day
So, what is MyOnalytica?
MyOnalytica is the world's largest B2B influencer marketplace, designed around both the influencers and the brands with the goal of making brand and influencer collaborations easy.
We're on a mission to help influencers become more influential, and for brands to supercharge their marketing strategies and tell their stories through influencers.
MyOnalytica is the go-to platform to help both brands that are just starting out with influencer marketing, as well as brands that have been working with influencers for years to take their program to the next level.
MyOnalytica has 4 key benefits:
Enables brands to easily find relevant Onalytica verified influencers that are opted-in, open and ready to collaborate with brands
Showcases Influencers' expertise, influence & preference on how they would like to partner with brands – in their own words
Provides unique insights on social media performance compared to industry benchmarks
Streamlines influencer management with an integrated payments system & contract templates
We hope that you're as excited by this development as we are, and we look forward to driving B2B influencer marketing forward.
Influencers, to create your MyOnalytica profile, click here.
Marketers, can request a demo of this new feature in the Onalytica platform here: https://onalytica.com/my-onalytica-demo-request/