14 Jul 2021
Cognism Intent Data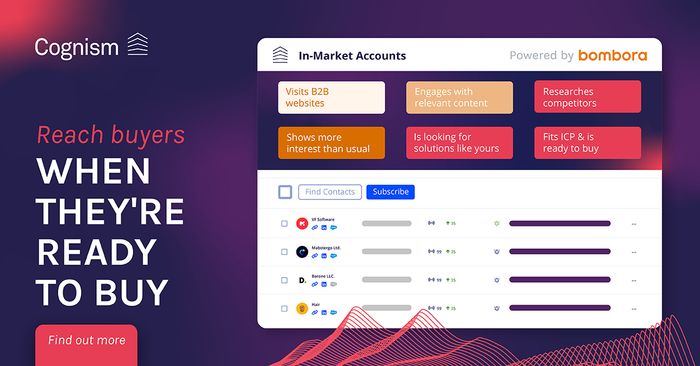 Know where your intent data comes from and what it means
Be certain that you collect intent signals from relevant, trusted, highly trafficked B2B sites.
Cognism's data comes from Bombora's data co-operative. It is consent-based, so it takes into account the context of each online interaction. It doesn't show interest in a topic in general, but increased interest in a topic compared to a historical baseline.
Since the data is gathered through a co-op, it is 100% compliant and working-from-home doesn't compromise intent signals.
Operationalise intent across marketing and sales
Prioritise your SDRs accounts based on who is actually 'in-market' today.
Build targeted audiences for paid social and stop wasting marketing dollars on accounts that will never buy from you.
Target your webinar invitations and email campaigns on those accounts and contacts who are actually researching the topic today. Watch your read and response rates sky rocket.
Start doing true Account-Based Marketing
Enable your prospectors with a refined account list built on real sales intelligence.
Move away from 'WHO' you want to target and focus on those accounts and contacts that are actually 'IN MARKET' and have true intent.
Serve hyper-personalised content and ads to imminent purchasers and increase brand recognition and conversions across channels.
Stop wasting time on tire-kickers
Surface ready-to-buy accounts, and the right contacts at those accounts, all within one platform.
Understand the pain points of prospects interested in your solution before you get in touch.
Closing deals is easier when you are talking to the right people
We play nicely with popular software you use every day
Cognism Intent Data aligns with your existing workflows. Use multiple tools in tandem to make truly data-driven decisions.
Combine the data with our fresh firmographic and technographic data and get all the data points your revenue teams need to drive faster, better sales conversations.