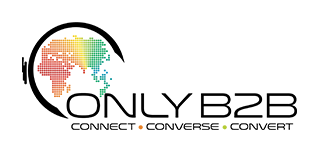 Only B2B
Stand: B2B-I52
| Account Based Marketing (ABM)
| Content Syndication
| High Qualified Lead (HQL)
| Yes
Only-B2B -- A Reputable Provider of B2B Lead Generation Services.
The business was established with the objective of bridging the gap between sales approach and market execution. To dominate the sales in market-activated environment, is Only-B2B's ultimate goal.
We understand the value of both quantity and quality when it comes to B2B lead generating services. Only-B2B uses marketing campaigns that are guided by strategy to gather genuine purchase intent data from authentic buyers. The provided leads are 100% opt-in and genuinely qualified.

With its market analysis and demand generation services, Only-B2B helps Business and Technology firms across the world achieve better ROI on their marketing expenditure and reduce sales cycles.
We are a leading B2B lead generation firm that offers a complete sales and marketing solution, including demand generation campaigns to meet customers' –Account Based Marketing, Marketing Qualified Lead, Sales Qualified Lead, BANT, Confirmed Call Back & Appointment Setting needs. The Only-B2B platform, harnesses the power of data, the internet, and human resources, connects thousands of potential buyers with our clients across the world.
We are masters of marketing execution services like Content Syndication and Event Promotion along with database services such as B2B List Building and Intent Data.