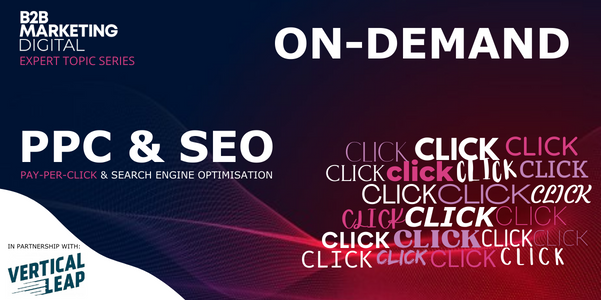 We all talk about paid advertising and SEOs and how they generate leads and awareness, but do we understand it and know how to apply it to our marketing efforts?
Whether you want to enhance your website's visibility to rise within the SERP ranking or use paid ads to attract those who are interested and ready to convert, it's important to understand these strategies, and when is best to use them. Our expert speakers will aim to provide you with the knowledge on how to make your content rank high and gain the trust of people through your content so that you can generate more useful leads.
Key takeaways:
- Learn how to help your content rank higher in search engines
- Get the most out of your paid advertising
- Gain a better understanding of the algorithms affecting your contents ranking
- Learn from expert speakers about the most effective way of improve SEO and PPC
Meet the speakers!
Adapting to market behaviours through search data
The last couple of years have been extremely volatile for businesses, what with Brexit and Covid, and we're now heading into the biggest inflationary period since the early 1980s and a likely recession. Each event causes significant changes to market behaviour as consumers grapple with the challenges, re-jig their priorities and adapt accordingly. This can prove very problematic for businesses as they try to adapt to these new consumer demands, but also makes it difficult to plan and predict what the future holds.
Search data is one area which can provide some answers. It isn't only useful for SEO and PPC insights, it's the most valuable source of business intelligence data, providing real-time insights from every target audience. In this talk, Chris Pitt explains why search engines are the most reliable source of consumer data, how you can use this data to inform key business decisions, and the processes we use to turn these insights into powerful business decisions for our customers.
Deploying PPC and SEO in your marketing strategy
A bit about the session:
With the uncertainty of recent years, marketing budgets have either been squeezed, or at the very least come under increasing scrutiny. The old cliché of getting more from less has never been more relevant!
In my talk, I'll show how we deploy PPC and SEO in our broader marketing strategy, how we try to optimise them to our advantage, the ROI this gives us in terms of generating leads and intent insights – and what we do with this data.
Key takeaways:
How to deploy PPC and SEO in local marketing initiatives
Tips for optimising PPC and SEO
How to use the data to good effect
Meet Ben!
With 18 years marketing experience, Ben has worked for a range of sized organisations from enterprises such as HPE and Emerson through to pre-IPO Silicon Valley start-ups. Most recently, Ben works for Paris-based software and services vendor MEGA International running international marketing programmes in the UK, Europe, the Middle East and Africa.
His experience has ranged from content creation and campaign management to managing multi-million-dollar budgets and regional go-to-market strategies. By working for vendors and resellers of different shapes and sizes, Ben has gained extensive practical experience of the opportunities and challenges that marketing teams face internally and externally. As well as the core functions of marketing, one of his main focuses is on how marketing can add optimal value to the business, and facilitate a productive relationship with sales teams and the broader business.