01 Sep 2022
Email Tips to Prepare for a Record-Breaking Peak Sales Season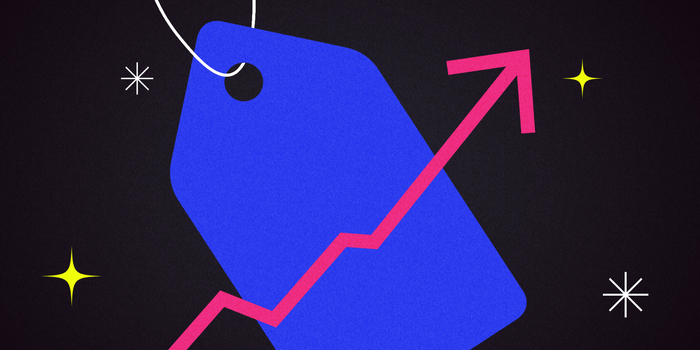 Most marketers know Q4 'tis the season they're told to "send more email!"
The final months of the year are a critical time for email marketers. Brands rely heavily on the email channel to drive customer engagement and sales revenue during this peak period.
But increasing sending volume doesn't always increase revenue. Marketers need a more effective plan.
This year, planning ahead is especially important, as news of inflation and ongoing economic instability will be top of mind for consumers and influence their purchasing decisions.
In addition, marketers will be up against rising global email volumes (global sending volumes have risen by 82 percent in the past two years!) and increased competition to stand out in the inbox.
Let's look at steps email marketers can take now to ensure a record-breaking peak sales season.
Warm up your IP or domain
During peak sales season, many senders increase send volume and frequency, often dramatically and suddenly.
These sudden, significant changes are alarm signals for mailbox providers, who may block or bulk messages until they are able to validate a sender's reputation. Senders can easily avoid negative repercussions such as delivery delays or spam placement by warming up their IPs or domains in advance.
During an IP or domain warmup, a sender gradually increases their message volume to the receiving mailbox provider. As they slowly increase their sending volume, senders build meaningful reputations with mailbox providers. As we know, sender reputation is a key driver of mailbox provider filtering decisions, and can determine whether messages land in the inbox, the spam folder, or are rejected.
In addition, repeatedly blasting out messages across your list can expedite subscriber fatigue. Early disengagement can result in lost opportunities for a customer to purchase from your brand. Brands don't want to overwhelm and annoy customers before a peak purchase period. When increasing volume, start with a solid segment of customers who expect your messages and actively engage with your brand.
Pro tip: High quality = low risk. Validate email addresses on your list before beginning a warmup, using a contact verification solution. Remove invalid or risky email addresses, especially for segments with low/no engagement, to prevent list hygiene issues from disrupting your deliverability.
Leverage the power of personalization
Competition for subscriber attention in the inbox has never been fiercer.
As reported during Validity's most recent State of Email Live Webinar, we're currently seeing a 30 percent uplift in global email volume compared to the same period last year. Should this trend continue, we can expect record-setting email volume in the fourth quarter.
In response to this flood of messages, subscribers will become more selective when deciding which emails to open and engage with. They'll also have lower tolerance for email that isn't timely or relevant; either marking these messages as spam or ignoring them completely.
Marketers don't have long to capture subscribers' attention either. According to a recent study by Microsoft, the human attention span has reduced from 12 to 8 seconds in the last 22 years. Subscribers scanning through crowded inboxes are making split-second decisions about which messages they open.
To gain subscriber attention and remain relevant throughout the peak sales season, senders need to optimize personalization capabilities. According to research by Dynamic Yield, 71 percent of customers say their interaction with an email is influenced by the level of personalization it offers.
Now is the time to review existing customer data and capture any additional information that will help tailor message content in Q4.
Most marketers are increasing their reliance on information provided directly by customers for targeting efforts. Why? Apple's Mail Privacy Protection (MPP) prevents email senders from using tracking pixels to measure open rates and device usage, while also masking recipients' IP addresses to prevent location tracking. This limits insight into who is opening messages and how to tailor the subscriber experience afterward.
Instead of relying on tracking data, marketers should place increased significance on zero-party data—information customers knowingly and willingly share with a brand. After all, 83 percent of consumers say they are willing to share their data to create a more personalized brand experience.
One great avenue to capture this information is a preference center where subscribers can indicate their choices about the emails they want to receive. Start gathering this information now with these "Easy Steps to Power up Your Email Preference Center". Promote your preference center in every email and try sending dedicated emails that prompt subscribers to update their preferences ahead of the peak season.
To further personalize messages, marketers should layer email preference center choices with first-party data such as transactional history and customers' behavioral data. These data points may include both online and offline data. By leveraging both zero-party and first-party data sources, marketers can ensure message content will be relevant and tailored to the customer.
For example, Timberland uses browse data to send site visitors a personalized, triggered message notifying them that supply is limited for the item they were viewing.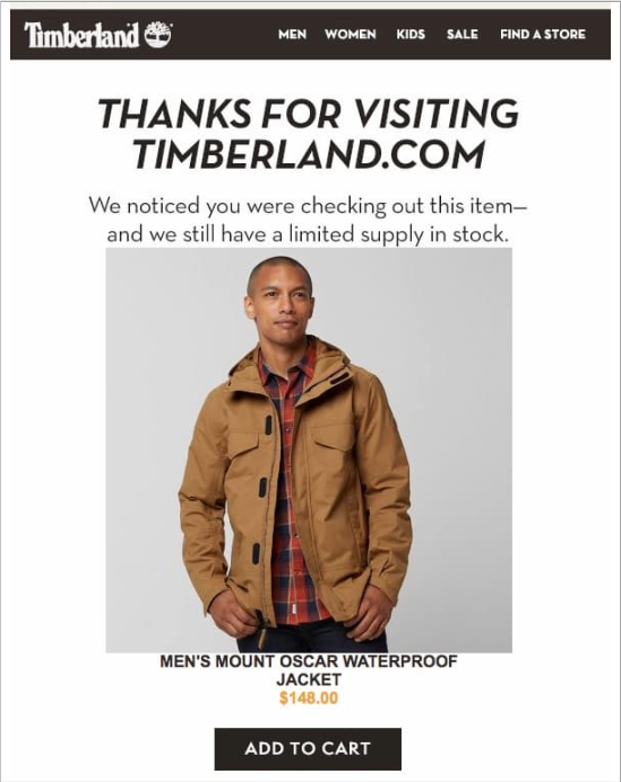 Segment and target
Once you've gathered customer data, it's important to honour subscribers' choices and follow through by delivering what they've requested. Marketers should begin to segment their sends into targeted campaigns prior to peak sales season to increase engagement early on and improve deliverability later. Segmentation is the process of dividing your list of subscribers into specific groups using a set of defined attributes. These attributes can include zero-party
and first-party data. The goal of segmentation is to better target subscribers with relevant content.
Segmentation is tied to major lifts in subscriber engagement. In fact, research shows segmented marketing campaigns generate 14.64 percent more opens and almost 60 percent more clicks than non-segmented campaigns. In addition to higher engagement rates, brands using segmentation strategies can achieve revenue increases of up to 760 percent!
See how Food52 appeals to coffee lovers—and people who love coffee lovers—in this targeted email.

Use dynamic content
Dynamic content allows senders to personalize blocks of content within an email to create a customized subscriber experience at the moment the email is
opened. Information used to inform dynamic content personalization can include historical data, customer behavior, and subscriber preferences.
Some customers only purchase from brands during the holidays each year. You can dig into year-over-year purchase data and use dynamic content to send tailored product features to these seasonal shoppers and increase their likelihood of re-engaging.
Marketers can also convert shoppers who are browsing but not yet buying by tapping into their category/browse abandonment behavior to populate a personalized product selection within an email.
Dynamic content is also a highly effective way to communicate time-sensitive deadlines, including promotion cut-offs and shipping deadlines. This encourages early buying during the peak sale season and ensures customers receive purchases on time.
In the example below, Disney prominently features a countdown timer to show the subscriber how much time they have left to take advantage of a free shipping promotion.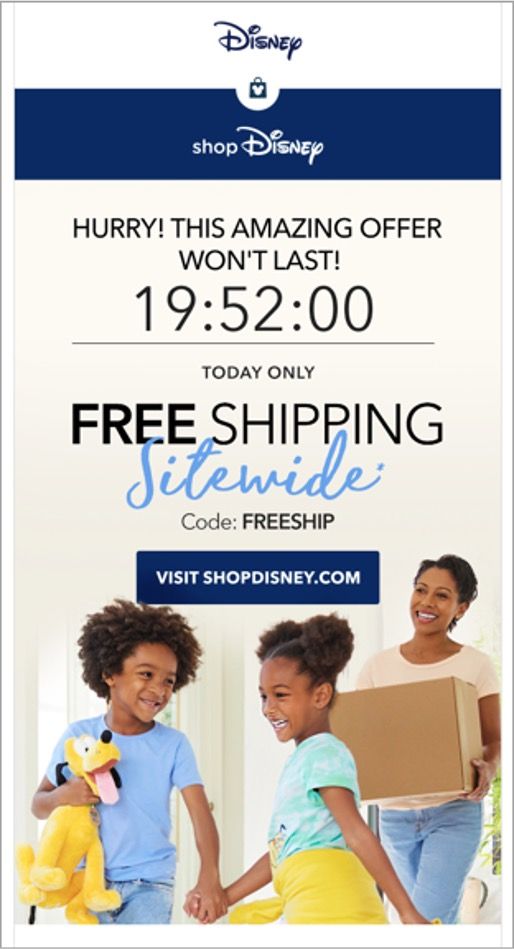 Learn more about the do's and don'ts of dynamic content so you can understand how to incorporate it into your email strategy for the peak season.
Automate
Email automation helps senders get the right message to the right customer at the right time. Automation messages are triggered by subscriber actions.
Triggered campaigns, such an abandoned cart or back-in-stock message, can be highly effective. These messages may be the push holiday bargain hunters— who may be browsing for the best discount or waiting to see if prices drop even lower—need to make a purchase. You can speed up the average time to conversion by sending email alerts when an item a shopper engaged with previously drops in price or is back in stock.
Shoe retailer Stuart Weitzman sends back in stock messages with a compelling call-to-action: "Shop Before It Sells Out Again."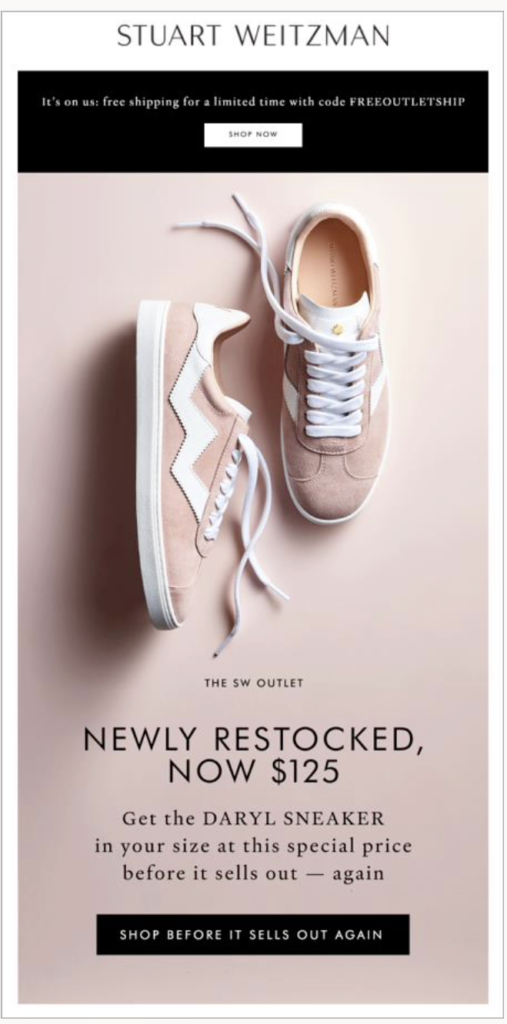 Also, home in on the cause of cart abandonment during the checkout process to then re-target those customers and message them accordingly. For example:
Do you see a pattern of shoppers bouncing due to shipping costs? Trigger an exclusive promo code for free shipping.
When done right, time-saving email automation strategies can help deliver tailored experiences and drive revenue.
Pro Tip: When setting up email automations, be mindful of sending to global audiences. Be aware of differences in seasons and holidays and make sure to send at optimal times.
Monitor deliverability
Deliverability issues can destroy your email program performance, and the road to recovery can be long and costly.
Before entering the holiday sales season, every marketer needs to monitor campaign deliverability, sender reputation, list hygiene, critical blocklists, and other deliverability risk factors before peak sales season begins.
Everest, Validity's email success platform, can provide this crucial insight and deliverability guidance to inform your peak sales strategy. In addition, Everest allows you to set up customizable alerts providing real-time notifications into campaign data so you can anticipate and react to problems before they impact performance.
Q4 planning starts now
It's critical for brands to plan ahead and have strategic tactics in place for their email programs ahead of the peak sales season.
For even more information and tips to optimize subscriber engagement this holiday sales season, tune into the latest episode of Inbox Insiders: "GameChanging Email Strategies to Dominate the Inbox in Q4."