14 Apr 2020
How Big Brands Use Premiums (PROMOTIONAL PRODUCTS)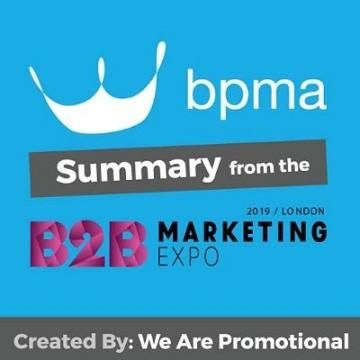 The BPMA attended the EXPO in March 2019 and have teamed up with We Are Promotional Products to create this infographic which summarizes Jon Birrell's seminar called; HOW BRANDS GROW WHEN THEY USE PREMIUMS.

Having spent the last 17 years developing his passion for the Promotional Merchandise industry, Jon Birrell has a deep knowledge regarding manufacturer, supplier and distributor perspectives having work in a sales, marketing and CSR capacity. Prior to that, Jon purchased Promotional Products for some key brands, giving him a 360-degree understanding of the benefits and emotive responses that our products deliver. As CEO of the BPMA, Jon is leading our association into a new chapter, further enhancing member engagement and communicating the value of Promotional Merchandise as an essential part of the Marketing Mix.

We Like Premiums Section:
What are Premiums? You may be asking! 'Premiums' are promotional products that are gifted or claimed when a product is purchased. The IMI 'International Consumer Research' found that consumers would prefer to receive a free gift with a purchase when compared to other methods of gifting premiums.

Low Cost Per Interaction Section:
A study by the ASI (Advertising Specialty Institute) found that promotional items have a very low cost per interaction. For example; A promotional bag, will be viewed 3,300 times on average in its lifetime. If that bag costs £2.50 then the cost per interaction is therefore one tenth of a penny!

Premiums Driving Growth:
This section will hopefully give you some ideas on how to use premiums to increase sales and brand exposure.
In the Compare the Market study we show how the infamous 'meerkat' toy is claimed every 30 seconds, with 4M+ toys claimed and a 65% redemption rate. We've all seen one of these toys kicking about in someone's car or home, not only are Compare the Market enticing customers to buy insurance but they are also ensuring continual exposure for their brand through the toys.
We also looked at how Coca Cola used the branded selfie stick to drive social engagement. Over 500,000 consumers entered the promotion which resulted in nearly 4,000 twitter mentions and almost 14 million twitter impressions.

Promotional Products Stats from The BPMA.
This section details some key statistics from BPMA research on how the effects of promotional products effect brand awareness and increases buyer intent with that particular company.
96% - OF RECIPIENTS SAID THAT PROMOTIONAL MERCHANDISE INCREASES BRAND AWARENESS
79% - OF RECIPIENTS ARE MORE LIKELY TO DO BUSINESS WITH THE COMPANY
83% - OF RECIPIENTS REMEMBER THE BRAND FOR 12 MONTHS+

Make sure you visit the B2B Marketing Expo 2020!