27 Sep 2023
Do More with Less: 8 Ways to Repurpose Your Video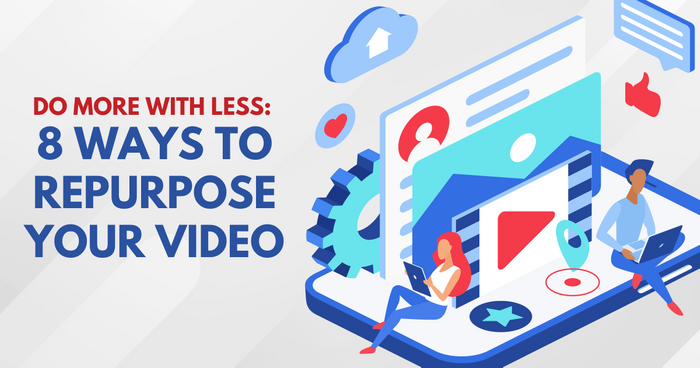 Video plays a key role in a B2B marketing strategy, but high-quality video content is time-consuming to create. In the noisy digital world that we live in, how do you guarantee that the time and effort that goes into creating video content is worth it, and how do you catch the attention of your ideal clients?
Two words… content repurposing!
One value-packed video can have an enormous impact when seen by the right people and the best way to make that happen is to repurpose it and distribute the content across multiple platforms over time. But first…
What is content repurposing?
It's finding creative ways to communicate the messages within your content in different formats, for sharing across multiple platforms.
Think of your content as multifunctional. A YouTube video doesn't have to remain just a YouTube video. What about the people within your audience who are not on YouTube, or who don't watch videos over 15 seconds long?
Your YouTube video can become a blog post, a podcast episode, social media videos, LinkedIn posts, and an image carousel!
By doing this, you aren't just building an audience of video lovers, but you're gaining the attention of the social scrollers, the podcast listeners and the blog readers too.
So where to start? No one knows better than you where your audience hangs out and how they consume their content, so start there. Here are some ideas to help you.
8 Ways to Repurpose a Single Video
If your video isn't dependent on visuals and there's value in the audio alone, it could become a podcast episode (if you have a podcast!).
Podcast listenership has enjoyed a meteoric rise over the past few years, with 25.5% of UK adults being regular listeners.
While video generally requires a stationary audience, podcast listeners are out and about. They might not have time to watch a 30-minute video, but they'll listen to a 30-minute podcast episode while commuting to work, grocery shopping, walking the dog… So your content can speak to them where they're at.
The power of the written word is as strong as ever and a blog post can have as much impact and authority as a video. You can transcribe and then summarise the entire video, pick out the main points, or go into even more detail about the topic.
Write different types of LinkedIn posts about your video. From text-only posts on different points that are covered, to sharing an insightful PoV, to running a poll. The discussion that takes place in the comments may even present new topics that can be repurposed into another video!
Short videos for social media
From TikTok to YouTube Shorts, Instagram Reels to LinkedIn, short-form videos are everywhere. It's impossible not to want in on the action. Especially when – according to Hubspot's 2023 Social Media Marketing Report – short-form video has the highest ROI compared to any other type of social media content.
A short video for social media is easy to create from a long-form video.
LinkedIn and Instagram carousels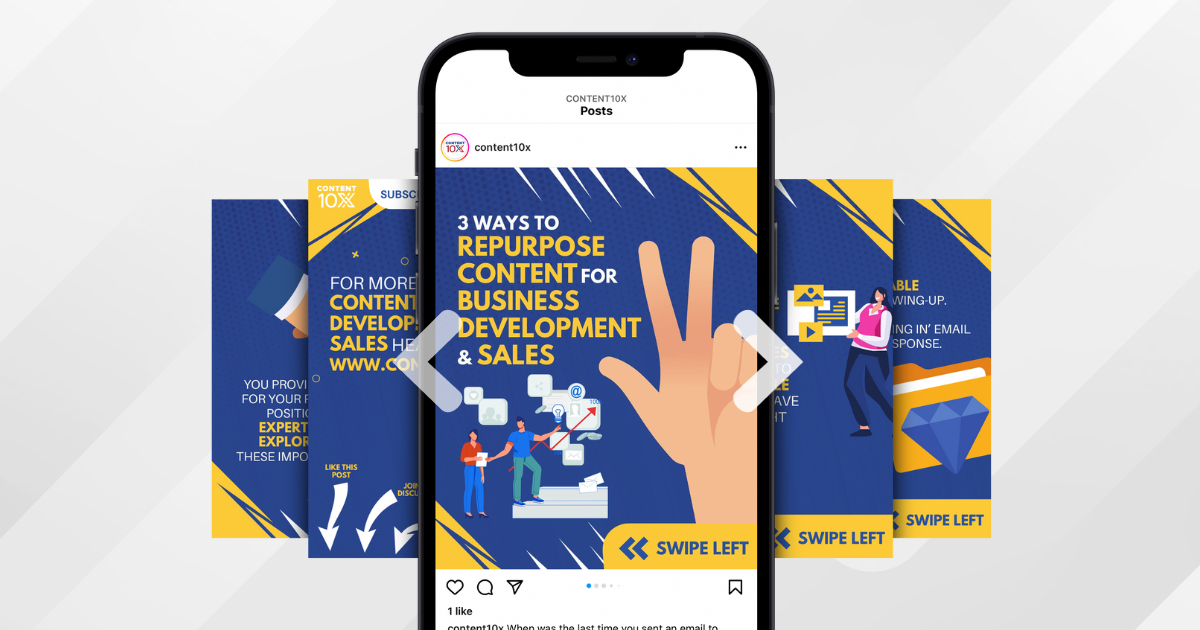 How-to videos can be showcased on LinkedIn and Instagram as image carousels. Utilise engaging quotes and screenshots that stand out and catch attention. Tip: you can repurpose an Instagram carousel into a LinkedIn carousel by saving the images as one single PDF document and then creating a Document post on LinkedIn.
Scour your archives and consult analytics to find your most engaged with and popular videos, and think about what your audience ask over and over. That is what you could create a course on. Here, we're not breaking content down, instead, we're building it up – repurposing isn't a one-way street! Identify many of your best videos that solve a problem, and collate them into a course.
Email is an important component of any marketing strategy. You worked hard for your subscribers so share valuable content with them by repurposing your video into an email. For example, you can send your video with a summary, or share a link to the blog post about the video, or share a unique perspective on the topic of the video.
Consider sharing additional tips and news related to your topic to provide added value for your subscribers.
And finally...everybody makes mistakes. Especially when it comes to recording videos! But these mistakes sometimes make excellent content. For example, collect a compilation of your funny and relatable outtakes, and add them to the end of your video, or post them as standalone clips on social media. Admittedly, this may not be on-brand for you, but if it is, it could be a great way to show your brand's human side.
What formats and platforms should you focus on?
You don't need all these methods to make repurposing your video a success. If you're undecided about what will work for your audience, answer these questions:
Who is your audience? Who is consuming your content and how can you align your brand's messaging with their needs and expectations?
Where do they consume the most content? Meet your audience where they are. This will ensure you get the most engagement and your message will be seen by the right people, in their chosen format.
What resources do you have? Do you have the budget to outsource, or is your repurposing dependent on the skills and time of your in-house team?
Let your answers guide where you should be focusing, and as your audience grows and diversifies, so can you.
Next time you create a video, plan how you are going to repurpose it first, and just see where it can lead! If you need help, never hesitate to contact the team at Content 10x.
---
Author:
Amy Woods
Founder and CEO