27 Oct 2022
The State of Webinars 2022 Report. All the insights to benchmark and improve your webinars!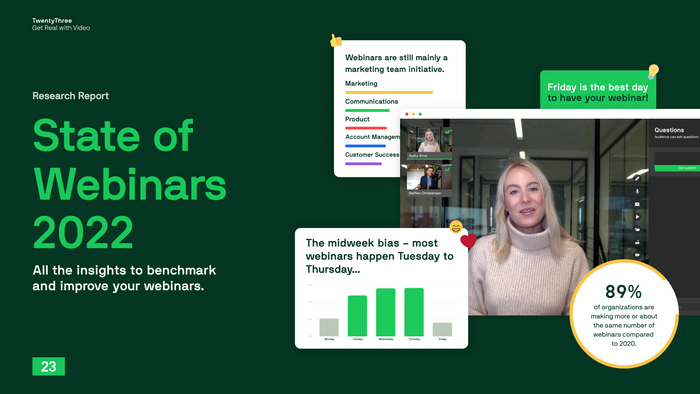 The pandemic brought about fundamental changes to the way that we communicate as human beings. When we couldn't be there in person, webinars were the next best thing. Now, more than two years on, webinars are here to stay. For many organizations, they've become the default way to engage and educate. In an increasingly digital world where we work more remotely than ever, webinars are the most human communication tool we have.
TwentyThree does this research to give organizations the information they need to make strategic decisions about their webinars. To decide where to go, you need to see where you stand. The findings are based on a mix of qualitative survey answers, and quantitative data from the more than 1.3 million people who attended a webinar hosted on TwentyThree in the past year.
TwentyThree was founded in Copenhagen in 2005 and is fully bootstrapped. Our video tools are used by marketing, sales and customer support teams around the world to bring their companies into a video-driven world. Featuring the market's most-loved webinar platform, and a suite of simple but powerful tools for hosting and managing videos on your site, gathering leads, analyzing your videos' performance and much more, TwentyThree is the essential platform to Get Real with Video.
We hope you find it enlightening - and useful.
Download the report here:
https://www.twentythree.com/state-of-webinars-2022-report