09 Mar 2020
B2B Marketing Trends: What's In And What's Out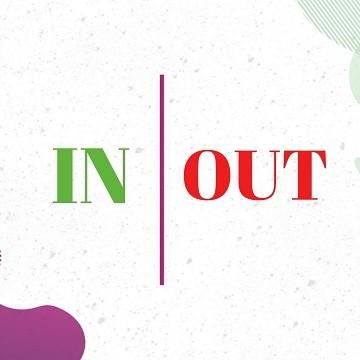 As with everything in human nature, marketing trends change and develop as time goes on. Thinks will be popular or effective for a while, but eventually they'll become outdated, making room for new innovations to come into the fray. In the B2B marketing world, strategies and techniques are also changing, so what is currently in and what is out?

The Ins
Employer Branding
This is becoming more and more important as time goes on. Companies are finding that their reputation as a place to work is crucial to their recruitment and keeping their employees happy. With the common use of GlassDoor.com, there is a much greater transparency when looking at places you may want to work. After all, everyone wants to be happy with where they are working.
Employer branding is 'in' largely because it is now easier to research and investigate than it used to be. It has always been an important aspect for an employee, but now you can find out what it is like to work for somewhere by simply looking online. On the other hand, it is better for a company to have a positive employer branding as it will help them to attract the more experienced and better candidates for their roles.
Content Marketing
It's no secret that every B2B company are looking to improve their content marketing. These companies want to be able to help buyers on a journey that starts before the sales call. This means that brands are now producing a regular stream of content for their potential clients in a bid to engage with them.
However, while content marketing is growing in popularity, that does bring forth a problem. If everyone begins to create and post regular content, how can the potential buyers sift through and find what relates to them best? There is already a lot of content being produced, so how can we make sure that the market doesn't become saturated? The way to combat this is to focus on the quality of your content, rather than the sheer volume. After all, if you post too much content then you're really competing with yourself.
Soft Skills
Soft skills are something that have been somewhat overlooked in the past. However, people are now realising the potential to have a well-rounded employee who has a combination of hard and soft skills. For example, employers want marketers who can show creativity, passion and adaptability. This means that we are no longer looking solely at the evidence that we have if their hard skills, but we want to know what kind of person they are and how their soft skills will impact the business.
Flexible Working
There is a lot of appeal with flexible working, especially for modern employees. It allows you to take some time out of your day to go to a doctor's appointment without taking time off as you can make the time back up in the evening or another day. This is also better for the company as you don't end up with people asking for time off to go and do these things.
Also, flexible working helps with employer branding as it shows that you trust your employees and they will be more likely to work with you. This also means that, when some pressing matters rise regarding the marketing of your company, your employees will be happy to stay on and get the work done as you've allowed them the freedom in the past.

The Outs
Siloed Learning
There are many mistakes made in the workplace. For example, training should no longer be restricted to senior roles or specific functions in the job. Instead, learning should become continuous. Talented people are always looking to develop their skills and the quality of your employees will improve if you allow them to do so. If you allow your employees some time to develop their skills, then everyone will benefit. Organisations are now freeing their employees so that they have the time to explore their own potential, meaning that they are even more well-rounded and skilled than ever!
Data-Free Personas
We are now at an age where data-free personas are simply unacceptable. It is no longer good enough to build yourself an inaccurate persona to work from when you can use data. Instead, you can use data to find out exactly who your target market is and then use this informed persona to your advantage.
Not many companies work from a data-free persona these days, and it is obvious why. You wouldn't want to waste your time and money on a campaign that might not pan out, so you shouldn't settle for uninformed campaigns.
Secret Pay Packages
Another key trend showing up online is the transparency of pay. It helps to work towards a gender balance, which helps to send a very important message to your employers that you care about equality. It has become less of a taboo these days to talk about how much you earn, and that's why transparency is becoming so important. It is better to be up-front about your wage structure than to cause mistrust among your employees.
Rigid Marketing Plans
Marketing is all about creativity, so we would never be able to create a rigid structure, in fear of stifling our imagination. While many used to prefer this rigid structure so that they could map out their marketing plan in detail and see the campaign's journey. This really isn't the best way to do it, as you'll want to adapt your strategy by using relevant data, new techniques and adapting your ideas to create the best content possible. There is no need for such a linear approach to your marketing now, and should let your creativity run more freely.
These various ins and outs of marketing are very applicable to most work settings in the current climate, and this can be largely attributed to the progression of society. We can now have more free thinkers, more equality, and less of a rigid structure to our days. Can you think of any new trends that you believe applies to marketing? Or perhaps anything that you've seen that is too outdated and needs to be changed or improved? Let us know over on social media!