19 Oct 2021
Top 10 Journey Mapping Tools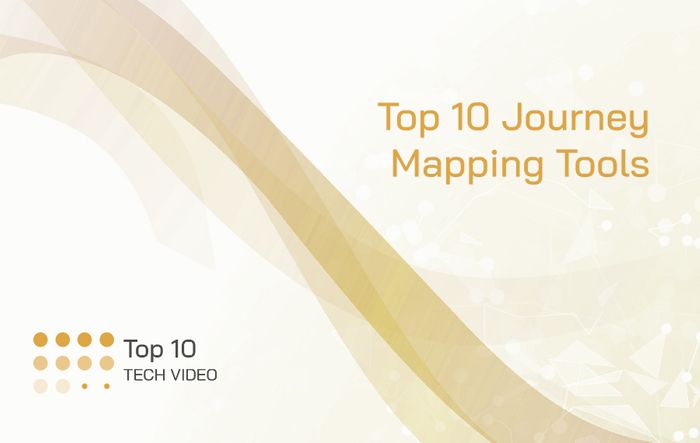 Designing your customer journey mapping templates is an increasingly important practice in the evolving consumer world. No matter what kind of business you run, or where you sell your products, your customers will go through a journey to interact with you. It might start with seeing a flyer or reading a message on social media, and end with an onboarding session from your SaaS team.
Knowing how all the pieces of a customer journey tie together for your audience can help you to ensure you connect with your clients at all the right points to ensure a successful sale. Fortunately, there are tools available to help you map and understand the customer journey.
Here are some of the top journey mapping tools on the market today that will allow you to perfect your customer journey mapping templates.
Totango
Currently used by over 5,000 companies, including SAP and Zoom, Totango is one of the better-known customer journey mapping solutions in the world today. The environment comes packed full of all-in-one toolkits to help you better understand the customer journey and plan for customer success. Totango has templates for everything from onboarding and adoption support to customer engagement and digital experience.
Not only can you get a better view of the customer journey with Totango's help, but you can also build a strategy for how you're going to improve the experience with revenue growth strategies, customer personalised marketing, and more.
UXPressia
An easy-to-use environment for building and tracking customer experience maps, UXPressia gives company a single place to track all the information they might need about their audience. There's a built-in academy where employees can take lessons and courses on how to develop their customer service strategies and a range of templates for personas.
UXPressia turns customer journey maps and visualizations into easy-to-understand storylines so you can better understand your target market. You can even create impact maps to help you predict how your customers might respond to changes in your organisation or portfolio.
Miro
Miro is a customer journey map template builder designed to help you and your colleagues understand the customer better. You can use the intuitive environment to collect information from a range of environments and build complete personas to help with sales and marketing decisions. You'll have access to plenty of psychographic and demographic data to guide you.
Mapping customer journeys is easy with Miro, and there's even a range of testing options to help you understand your audience on a deeper level. You can even add to your journey map and upgrade your insights as your business continues to evolve.
Clarabridge
A leader in the Forrester CFM platforms Wave, Clarabridge is a well-known tool for customer insights and journey mapping. You can use this digital service to grow sales, build compliance, and increase efficiency on a massive scale within your organisation. There's access to a comprehensive central environment where you can aggregate all of your Voice of the Customer data for better audience overviews.
Clarabridge comes with access to innovative technology like natural language understanding, so it can even collect information from phone calls. You can track things like customer loyalty and sentiment and discover the cause of common NPS changes.
Heap
A leader in behavioral insights, Heap makes it easier to become data driven, and design better customer experiences through valuable information. You can use Heap as a complete overview into everything users do on your site. Heap makes it easy for digital innovators to collect the most valuable insights from your digital experience. You can collect data on where customers click, what they look at and more, all without engineering experience.
Heap's data science layer also scours your digital data environment to learn more about what's important to your business and surface highly targeted, unexpected insights. The low-code platform means you can answer questions about your business faster.
Smaply
Another fantastic tool for companies in search of visual customer journey insights, Smaply is an intuitive tool for creating stakeholder, customer, and personal maps. You can enhance your maps with various details, like live data, channels, storyboards, and backstage process information. There's also support for collaboration, so you can work together as a team on different ideas.
Journey maps can be linked together to create a bigger picture of your entire business and develop hierarchies that support your overall view of customer experience. There's also a persona editor to allow you to define and describe the context of customer types visually, with things like real social user profiles and more.
Hotjar
One of the better-known tools for customer behaviour insights, Hotjar helps you to collect valuable information about your audience, through tools like session recordings, heatmaps, feedback, and surveys. Heatmaps and session recordings will give you a better view of how customers behave and what they do when they're active on your site.
The insights available from HotJar are particularly good for companies who need help figuring out how to build and fix their website to offer the best possible customer journey. You can also use traditional tools like Google analytics alongside Hotjar for better insights.
Google Analytics
Google analytics specifically focuses on delivering insights into your customer's experiences when they're on your website. The GA environment gives you access to a range of website traffic metrics, like exit and bounce rates, goal conversion, sources of traffic, and user demographics.
If you want to specifically improve your insights into your business operations from a digital perspective, Google Analytics can tell you how much traffic your website gets and where it's coming from. You can even get a better idea of which landing pages are the most popular, and what kind of people are more likely to abandon your website.
Gliffy
Gliffy is a web-based visualisation tool and editor, created to help companies build and edit diagrams about the customer journey. Though a little basic for highly technical visualisation, Gliffy can be ideal if you want to give your employees a better view of how your customers interact with your business. You can make organisational charts and Venn diagrams, and even access private content.
You can share the content with anyone in your team, collaborate and comment on diagrams, and even integrate your tool with various other tools to help you build more accurate customer journey diagrams.
InMoment
A platform designed to gather data from different environments in various feedback channels, InMoment helps you to get a more complete view of your customers wherever they are. Named a leader in the Customer Feedback Management section for the Forrester Wave, InMoment is an innovative tool in experience improvement.
The platform doesn't just look at one channel; it brings multiple avenues together to give you a more comprehensive view of the customer journey. Journey mapping solutions come with access to engagement level tracking too, so you can see how customers feel about certain parts of interacting with your platform.