06 Mar 2020
Why You Should Try Influencer Marketing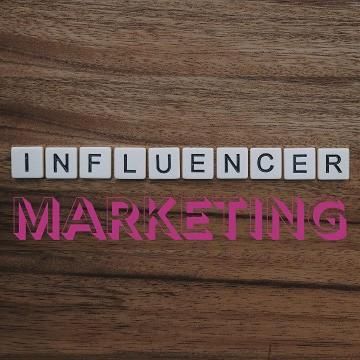 Influencer marketing. What is it? Many believe that it is simply a reinvention of the age-old technique of paying a celebrity to appear alongside your product even though we know full well that they've never used it. This simply isn't true. Influencer marketing is far more targeted than this, as it aims to collaborate with people who would genuinely be interested in their product and would want to recommend it to their fanbase. We are in an age where consumers trust people more than companies, so marketing through trusted influencers is a perfect way to get people to believe in your brand.

What Is The Role Of The Influencer?
The influencer is almost an old role reimagined. As many companies used to simply try to tag a famous name to their product, the role of the influencer becomes so much more. An influencer is essentially a person who has a presence on social media with a large following. This can be in any kind of capacity ranging from Youtubers performing stunts, Instagram influencers who focus on beauty or fitness techniques, or even a company's leading marketing executive who is active on Twitter. The only real criteria for an influencer is that they have a large following. This can range from hundreds of thousands all the way to the tens of millions who follow them for their unique content.
How is an influencer different from a celebrity? The main point is that their following all share a common interest. They're not here because the person is in blockbuster movies, they're here because they're interested in the original content that the influencer posts online. This works perfectly for marketers looking to collaborate with an influencer as they can now identify influencers that relate directly to their product, analyse their following on social media, and then decide whether to approach them to work together in sharing your product.
Working with an influencer can open great opportunities to get your brand in front of a large following, but you must be selective on which influencer to approach. Influencers have a reputation that they have gradually built alongside their following, and they won't jump to market something that could potentially damage their image. However, if you choose the right influencer at the right time with the right product, it can work wonders for your marketing.
You can work to identify which influencer is best suited to your brand by using external agencies. This way, you can utilise a wealth of experience in influencer marketing to help you choose the right person, time and details of your campaign. Alternatively, Artificial intelligence can actually analyse all of the content they have posted and how their fans have reacted to their content.

Partnering With Your Influencer
So you've identified the most suitable influencer and they've agreed to collaborate on a campaign marketing your product. What's next? You will then have to decide what your campaign will entail. Will they give a positive product review, or would they go on location to use your product in action?
For example, Old Navy are very experienced in influencer marketing over Instagram and Twitter. They specifically targeted ex-New York Yankee and influencer Alex Rodriguez for their campaign.The company were running a charity fundraiser in partnership with clothes sales to drive awareness and fundraising for the Boys and Girls Club of America (BGCA). They specifically targeted Rodriguez as the influencer to use as he was once part of the BGCA, so he would have more of a connection to it. This way they had an influencer, an avenue of driving sales, charitable work and a targeted sale on Black Friday. Old Navy showed exactly how they can optimise the reach and influence of their marketing campaign by combining these techniques for maximum efficiency.
So now that we've looked at how the partnerships work, just how successful are they? A report found that there was a 1500% increase in google searches for influencer marketing over the past 3 years. It also found that 63% of companies intended to increase their influencer marketing budget over the next year. This shows that the industry is only growing more and more, so we can expect to see more companies budgeting for influencer marketing in the future.

Partnerships And Brand Safety
Influencer marketing should be seen as a way of further expanding your target audience. If you take the time to research which influencer suits your brand best, the results can be fantastic. Identifying the right influencer is the key to a successful influencer marketing campaign. If you do not research your partnering opportunity in enough detail, you can find yourself in trouble simply by associating yourself with that specific influencer.
For example, famous Youtuber PewDiePie has over 99 million subscribers. He relates to your brand and his content fits in with your product. On face value, you'd think that this is a perfect reason to use him for your influencer marketing campaign, right? Well maybe not. When considering to use him for your brand, you need to vet his content to see if there's been any controversy surrounding them. While PewDiePie is well known with a huge following, he has known to make anti-semitic comments in his videos while playing video games. That's definitely something that you don't want to associate yourself with.

Similarly, Youtuber Logan Paul has gained a following of 19 million for his content, but has recently produced a tasteless video, which led to brands questioning whether they want to be associated with him. There are event examples of company CEO's publicly saying that you shouldn't work with him for influencer marketing and you should carefully examine the Youtubers that you associate yourselves with. A report regarding this issue found that 49% of their respondents agreed that brand safety could occasionally be a concern with influencer marketing. However, 30% believed that it is always a concern.
While there are obvious concerns regarding brand safety, influencer marketing can be a valuable tool, if used correctly. If you can follow all the correct steps and partner with an influencer that you believe will not damage your brand in the future, then can be a hugely successful marketing campaign. 71% of marketers believe that influencer partnerships are good for their business, which shows just how much this is valued in the industry. We can expect to see influencer marketing to grow through 2019 and 2020 as it is expected to become a $5-10 billion market by 2020. As we see the rise of influencers in marketing, how far can it really go as a strategy?