05 Oct 2022
Demand Generation – A Revenue Stream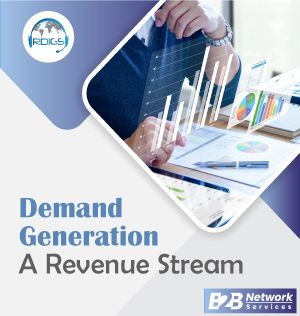 Most marketers delve deep into generating leads without considering the overall strategic context. At RDIGS, when we partner with clients, we explain how our strategic solutions coupled with integrated technology are used to transform a demand generation system into a revenue machine
For a marketing professional to concentrate on the bottom of the funnel, measuring the campaigns is critical. Without paying attention to the fundamentals of analytics and marketing, many entrepreneurs make errors and rush into implementation. Execution is important, but a strong plan must support it. The best way to execute marketing initiatives is to set your goals and key performance indicators in advance.
Demand creation needs to be well-planned and grounded in reality for a B2B firm to succeed. But it also makes it feasible for you to obtain, understand, and profit from customer-centric data in addition to offering a framework for creating it. This post will reveal how to convert your demand generation into a growth and revenue-generating machine.
Making the Most of Your Customer-Centric Data
Creating client data on its own has minimal utility. To make it valuable but low maintenance and for it to function correctly, you must gather, store, and use it in a particular way.
For example, it could be useful to keep note of the names of potential clients who have shown interest in your business during the previous year. But wouldn't it be much more beneficial if you knew who was simply browsing and who was prepared to buy?
By better understanding your customer data and utilizing it to your advantage, you can convey the appropriate message to the right person at the right time without a laborious procedure. By doing this, you can make sure that your advertisements are more educational and less interpretive, increasing the likelihood that they will result in a sale.
The Conventional Approaches No Longer Work
Initially, technology was very different from what it is today. Numerous challenges, like the GDPR, smart prospects, privacy, and even the rise of data mining, have had an impact on this transformation.
Old Techniques Included:
Acquisition of data lists
Emails sent in bulk
Cold calling without authority
Invasive SMS messages
Even if many companies still employ these out-of-date marketing techniques, it would look extremely outdated for any company to do so.
Yet why?
In their eagerness to convey their message, many companies fail to see the strategic and scientific combination that produces effective marketing. They limit their company's capacity to grow as a whole by ignoring the wealth of prospect data that may provide them with acute insights into the tastes and behaviors of their potential customers.
A demand development method can help in this situation.
Demand-centric systems can range in complexity from a straightforward spreadsheet to a sophisticated computer applications. But if you use one well, you can boost sales and satisfy clients at every stage of the purchasing process. RDIGS has executed various campaigns over the last 4 years with unmatched results for their clients!
How to Employ Demand Generation for Data-Driven Marketing
The most effective marketers are those that have a laser-like focus on the consumer experience. When customers are prioritized above all else through this emphasis on data-driven marketing, the best results are generated.
Marketing bleeds into sales when marketers put customer experience as a top priority. A never-ending cycle of growth and income is created through the feedback loop between sales and customer success. But you can only do this if you place your potential consumers first, under the control of a demand generation system.
The secret to experience-driven data marketing, which is the secret to your development and improved ROI, is leveraging your demand-centric pipeline to your benefit.
Suppose all of your tools are not unified and integrated into lead generation. In that case, you will usually find fragmented data, a segmented customer experience, and no means to assess what is and is not working. By fusing demand with consumer experience, it enables marketers to create individualized customer experiences across all channels. This offers the finest user experience possible and allows marketers to assess the general success of their multi-channel initiatives.
Hence, Demand Generation is Your Revenue Generating Machine
As long as you keep your data structured and easy to use, you can boost sales and attract more customers. There are three approaches to transforming a demand-centric system into one that yields a greater return on investment once it is in reasonable condition.
By segmenting your audience, you may specify precisely the demographic groups you want to target as prospective clients, and you can ensure that your message is successfully communicated. By contextualizing your messaging and matching it to a specific step of your prospects' journey, you can enhance funnel conversions at every level.
You may gain your prospects' attention and increase their confidence in your brand by engaging customers like genuine people. By being attentive to their issues and providing pertinent information and responses as requested, you may demonstrate to your prospects that they are important.
RDIGS has been using innovative result-driven demand generation methodologies over the years for many of its partners. Feel free to reach out for more information on how you can benefit from a custom state-of-the-art solution that fits your needs.