04 Oct 2021
Microsoft Dynamics 365 Customer Service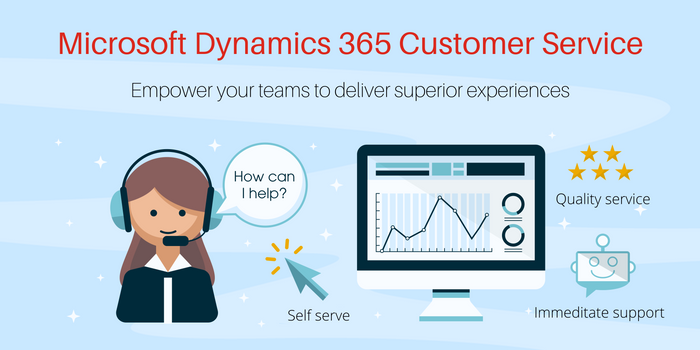 Improve customer satisfaction
Microsoft Dynamics Service offers everything your customer service team needs to be able to meet and exceed your customers' expectations wherever they are and whatever device they happen to be using.
---
Deliver a personalised service to drive loyalty
Customers want to be viewed as individuals not a number and that's why the personal touch is so crucial in today's world. Show your customers how you value them, by delivering personalised experiences.
Thanks to detailed customer service insights, your service team can gain a full 360 view of the customer's journey. This customer knowledge, combined with an easy-to-use dashboard means your service agents can quickly get up to speed and make informed decisions that help the customer there and then.
---
Self-service for your customers
Empower your customers to be to find the right answers quickly and without the wait. With Knowledge Base, customers can resolve their own issues, lessening the reliance on your customer service agents.
---
Empower your service agents
With a unified and seamlessly integrating system, your service team will have all the tools they need to be able to exceed customer expectations. With customer insights, knowledge base, and the assistance of virtual agents, they are able to work efficiently and effectively.
---
Proactive customer service monitoring
Be one step ahead and address possible issues before they occur with powerful data analysis. By taking action early, you can avoid future problems and maintain customer satisfaction, resulting in improved customer retention.
And with Customer Voice, customer surveys, and reviews, your organisation can gain invaluable insight and understanding.
---